Friday, January 25th 2008
In 1951 Wilhelm Furtwangler twice demonstrated his inspired approach to Beethoven's Ninth Symphony within a matter of only a few weeks: at the Salzburg Festival (C 533 001 B) and to reopen the first post-war Bayreuth Festival. For a long time, the unedited recording of the legendary performance on Bayreuth's Green Hill that was broadcast live to the whole of Europe was believed to be lost. It is now being issued by Orfeo in a carefully restored pressing. The impression left by the performance is overwhelming, generating the feeling that Furtwangler was always keen to create in all his interpretations: the music is in a constant state of flux, while none the less striking out in unexpected and surprising directions, notably in the Scherzo, which receives the most trenchant imaginable performance here. Such a reading is possible thanks, not least, to Furtwangler's willingness to use a risky but never arbitrary rubato at difficult musical transitions and modulations. Moreover, the playing and singing of all the participants conveys the twofold sense of tension generated by Furtwangler's energy-laden unpredictability on the one hand and by the special nature of the concert on the other. This was only the second time that Beethoven's Ninth Symphony had been performed in the Bayreuth Festspielhaus, the foundation-stone-laying ceremony for which had been marked by a performance under Wagner's own direction in 1872. The 1951 performance was like a rebirth of the Festival myth. It would be pointless to rhapsodize about the supremely high standards of the Bayreuth Festival Orchestra and Chorus, the latter including all the soloists from that summer's Festival. It says much for the high artistic status of Elisabeth Schwarzkopf, Elisabeth Hongen, Hans Hopf and Otto Edelmann that their individual performances stand out from this collective achievement, without distracting from the overwhelming impression of the performance as a whole. The fact that this concert was immediately hailed as "the musical high point of post-war history" will be disputed by no one who hears the authentic recording of this concert.
L.v. Beethoven: Symphonie Nr. 9 d-Moll op. 125
Elisabeth Schwarzkopf (Sopran)
Elisabeth Hongen (Alt)
Hans Hopf (Tenor)
Otto Edelmann (Bass)
Chor der Bayreuther Festspiele (Chor)
Orchester der Bayreuther Festspiele
(Orchester)
Wilhelm Furtwangler
(Dirigent)
Recorded: 29, July, 1951, Live Recording
Location: Bayreuth Festspielhaus
---
Historical index
SymphoniesLatest Items / Tickets Information
* Point ratios listed below are the case
for Bronze / Gold / Platinum Stage.
featured item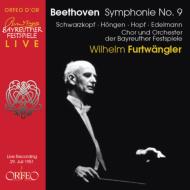 Import
User Review :4.5 points (

66

reviews)
Price (tax incl.): ¥2,860
Member Price
(tax incl.): ¥2,488
Multi Buy Price
(tax incl.): ¥2,145
Release Date:21/December/2007
In Stock
%%header%%
%%message%%
featured item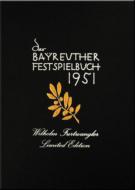 Import
User Review :4 points (

39

reviews)
Price (tax incl.): ¥13,079
Member Price
(tax incl.): ¥11,380
Release Date:11/December/2007
%%header%%
%%message%%
featured item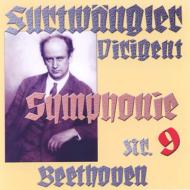 Import
User Review :4 points (

28

reviews)
Price (tax incl.): ¥3,069
Member Price
(tax incl.): ¥2,671
Multi Buy Price
(tax incl.): ¥2,302
Release Date:19/May/2007
In Stock
%%header%%
%%message%%
featured item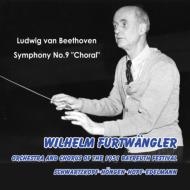 Import
User Review :5 points (

21

reviews)
Price (tax incl.): ¥2,959
Member Price
(tax incl.): ¥2,575
Release Date:21/December/2005
%%header%%
%%message%%
featured item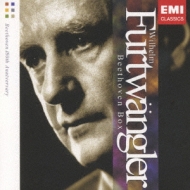 User Review :4.5 points (

6

reviews)
Price (tax incl.): ¥10,476
Member Price
(tax incl.): ¥9,639
Release Date:20/June/2007
%%header%%
%%message%%