Thursday, January 24th 2008
Firenze 1616
Le Poème Harmonique, Vincent Dumestre

≪ For those who love the seconda prattica, this is an absolute treat !≫

One single ideal inspired the toils of learned Florentine societies at the end of the 16th century : to discover the essence and the ways of Greek tragedy, seen as the universal symbol of the lost harmony between words and music. Orpheus, both poet and musician, son of a God and a mortal, incarnates this union between two languages with the explicit aim of lending a hand to the triumph of the "affect".

This record delves into the ideology and the aesthetics of the early baroque to reveal a subtle and brotherly alliance between intellect and feeling.

As befits a true manifest, this recording presents all the expressive possibilities of a rich instrumental accompaniment, in order to better serve the theatrical scene. As a fitting prelude to Domenico Belli's Orfeo Dolente, created in 1616, Vincent Dumestre chose various airs of Florentine masters of the Seconda Prattica (Caccini, Saraccini…)

Let's remember the publication, in 1999, of ≪ Il nuovo stile ≫, by the same Belli (ref ALPHA 002) to unanimous acclaim of the international press: "Let's fall for the simply beautiful! One is baffled, happy, shocked and torn. The interpreters are stunning (…). The extraordinary thing about this interpretation is that, notwithstanding the outpourings of emotions, the musicians never loose total control: such music requires superb discipline for the risk of chaos is very real, and the interpreters know it all too well (…)" to cite but one article by Sophie Roughol in Repertoire.
text by Alpha
Sospiri d'amanti
1 Io moro (Claudio Saracini) 3'53
2 Tutto 'l di piango (Giulio Caccini) 6'05
3 Non ha'l ciel (Giulio Caccini) 3'50
Il Rapimento di Cefalo di Gulio Caccini
4 Sinfonia quarta (Cristofano Malvezzi) 3'13
5 Innefabile ardor 0'39
6 Muove si dolce 2'52
7 Caduca fiamma 2'27
L'Orfeo Dolente di Domenico Belli 35'36
8-11 Primo intermedio : Orfeo e Plutone
12-17 Secundo Intermedio : Orfeo, Calliope, Plutone
18-23 Terzio Intermedio : Orfeo, Calliope, pastore & Choro
24-27 Quarto Intermedio : Le tre Grazie, Orfeo & Choro
28-30 Quinto Intermedio : Le tre Grazie, Orfeo, Choro di tutti gli interlocutori
Early MusicLatest Items / Tickets Information
* Point ratios listed below are the case
for Bronze / Gold / Platinum Stage.
featured item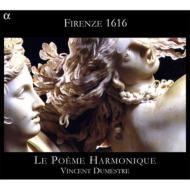 Price (tax incl.): ¥3,080
Release Date:16/April/2008
%%header%%
%%message%%
featured item
%%header%%

%%message%%

%%header%%

%%message%%

%%header%%

%%message%%

%%header%%

%%message%%

%%header%%

%%message%%

%%header%%

%%message%%

%%header%%

%%message%%

%%header%%

%%message%%

%%header%%

%%message%%

%%header%%

%%message%%

%%header%%

%%message%%

%%header%%

%%message%%