Wednesday, December 10th 2008
Mr.Children's 14th original album "SUPERMARKET FANTASY" is about to be launched fairly soon, and here's a TV commercial of the album!
Mr.Children are releasing the new album "SUPERMARKET FANTASY" on Wednesday Dec 10th, about 1 1/2 years after the previous title "HOME".
The album, with 14 tracks in total, features a lot of theme tunes for various TV programs and films: "Tabidachi No Uta", the theme from a popular film "Koizora", the theme from TV drama "Battery" titled "Shonen", the theme from another TV drama "Code Blue" titled "HANABI", the theme from Beijing Olympic Games TV program "GIFT", and also the theme from the film "Watashi Wa Kaini Naritai", which actually was a download-only single but now included on the album CD.
Mr.Children are now regarded as a national band, and now approaching their 15th anniversary they continue to deliver the music with far more depth and quality than ever.
The already-announced jacket image is full of colours, with a boy and a girl hugging each other in a supermarket, which kind of makes a good comparison to their previous "HOME" image which was serene and down-to-earth. Now would this comparison also speak of the content? - that's what you've got to figure out for yourself on the new album!
The limited initial edition is a CD+DVD package. The DVD includes "MUSIC CLIPS 2007-2008 〜SUPERMARKET FANTASY〜"!
* Point ratios listed below are the case
for Bronze / Gold / Platinum Stage.
Limited Initial Edition: CD+DVD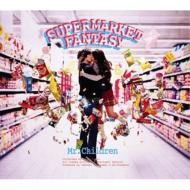 User Review :4 points (

67

reviews)
Price (tax incl.): ¥3,455
Member Price
(tax incl.): ¥3,180
Release Date:10/December/2008
%%header%%
%%message%%
Regular Version
User Review :4 points (

67

reviews)

Price (tax incl.): ¥3,146
Member Price
(tax incl.): ¥2,737
Multi Buy Price
(tax incl.): ¥2,580

Release Date:10/December/2008

%%header%%

%%message%%
FEATURED TITLE
%%header%%

%%message%%

%%header%%

%%message%%

%%header%%

%%message%%

%%header%%

%%message%%